My Ten
(more or less)

Most Wanted List
| | | | |
| --- | --- | --- | --- |
| | | Please email me if you can help me acquire any of these items for the collection. | |
Jumar Combi - limited production around 1977. This ascender was far ahead of its time, with features like replaceable teeth on a plastic cam. There was also a pulley attachment.


While I'm at it, there were some very early Jumars with "Z"-shaped teeth instead of the conical teeth used on all later models except the Combi. Does anyone have any of these that they'd be willing to donate or trade?

Gilbert Perrin patented an interesting descender in 1989 that I would love to have in the museum (European Patent #366,607).


Tokyo Top décrocheur. It appeared in an early 1970s Snell Sport Chamonix catalog. I have the Tokyo Top ascender and the Tokyo Top descender but not the décrocheur.


I first read about the Bugat in a note by Michel Beaupré in Les Bloqueurs en Spéléologie, Spéléo-Québeq v3-4, 1976-77. I'm still looking for one.


BlueWater Ascender - I found this photograph in Bob Thrun's collection.


Emili Sabaté [1936-2006] was a prominent caver from Barcelona who made and sold equipment under the Emilsa name. I have one Emilsa chest ascenders and one of his bobbin descenders. There are several other versions of the bobbin that I am missing. I am particularly interested in getting some of the Emilsa handle ascenders.

Harald Müller sent me several pictures of his very old Töpfer Hook:

VersAscender: These were available in the 1990s but apparently were never widely produced. I talked to the developer (Robert Mitchell) and he wasn't able to provide one.

The Petzl Gibbone was a combination pulley and chest ascender produced in the 1970s.
My 1968 Sporthaus Schuster (Münich) catalog shows a Sticht Seilbremse featuring an interesting twist.

Hobbs Hook - There are at least three variations to the Hobbs Hook. I have the basic model and the fire-fighting model, but would like to get the rope locking model. The picture shows the rope locking model, which has a modified frame and two springs that fit over the frame and force the brake bar upwards. The appears to be identical to the fire-fighting model except that it has two springs.

This device sold on the German eBay site in late 2005. Unfortunately, the auction ended before I became aware of it, so I was not able to bid. According to the seller, the device is 120 mm. high and 75 mm. wide, and weighs 0.7 kg. Apparently it is an antique descender made out of bronze.

Although I have quite a few variations of the Salewa Sticht Plate, I do not have any of the three variations illustrated on the instructions that came with the first one that I acquired. Two of these also appear on a page from the early 1970s Snell Sport Chamonix catalog that Carlo Bellestrero sent me, so I assume that these are 1970-1972 vintage designs:

The Monty belay device:
There is another version of the Rappel Rescue Systems Pro-Pak webbing descender.
---
Items needed to complete a set:
---
Thank you…
to the following for sending me items, most of which were previously on this list:
Raúl Macía Sanchez for sending me an Emilsa Bobbin.

Sergio Matteoli for sending me a Scagliarini Cavatappi.

To Kelly Byrne for sending me an anodized Kong Kisa with a round hole.
Thanks to Kris Wild for donating TWO versions of the Coe descender by Pentincton Engineering. These were the last items that I needed to have all the descenders shown in Tom Martin's book Rappelling (many of the photos added to the second edition are of devices from my collection).

To Olivier Peron Caillet, for a pair of Tokyo Top ascenders. The classic movie "Godzilla versus Gigan" (Godzilla versus Gigan, Toho Co., Ltd., ©1972) shows a Jumar look-alike being used by the good guys in a successful escape from the Godzilla tower where they were being held captive by the cockroach space aliens.




Their escape technique is shear nonsense, but I was immediately intrigued by the ascender. It appeared to be very similar to a Jumar, but the casting differs in several respects. For many years I wondered if it really existed, but in March 2008, Carlo Bellestrero sent me a page from an early 1970s Snell Sport Chamonix catalog that showed that this is a Japanese copy of the Jumar. It is a perfect match to the one shown in the movie. According to the catalog, the ascender weighs 310 g. (versus 250 g. for the Jumar). In February 2015, Olivier Peron Caillet found a pair on a French auction web site, acquired them, and sent them to me.

Thanks to Denis Pivot for donating a Simond #3 Multicoin - a chock also designed for use as a belayer or descender - and to Slade Matthews for making a second one available.


To Stéphane Pennequin for sending me a Forrest belay plate.
To Tom Furey for sending me a Hugh Banner Safety "8" with a traditional eye.
Many thanks to Martin Armitage who had a Peck Hook for sale on eBay, and worked closely with me to arrange for me to "buy it now." The Peck is an old rappelling device once used by climbers. I spent four decades looking for one, and then finally made a copy using the photo as a guide. Now I finally have an original.

Radeberger Hakens:

To George Wright for selling me a Hugh Banner ascender with Clog Expedition/ CMI Expedition style safeties through eBay.


To John Sharples for arranging a trade with the Newcastle Ramblers Bushwalking Club for a Hopf Device.


To Daniel Veelik for sending me a gold-anodized original pattern Russ Anderson Figure Eight to replace the one that I lost while caving.


Stéphane Pennequin donated one of the early versions of the Pierre Allain hook that does not have the recessed lettered area on the shank. For those who do not know Stéphane, he is the world's premier collector of climbing nuts.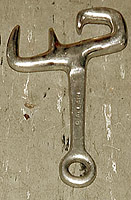 …to an anonymous contributor, who provided a Rocky Mountain Rescue Group Belay Plate.


To Doug Miles for sending me a Rollgliss 100 and TWO more different versions of the Rollgliss 200 descender.



To Jay Kennedy for sending me TWO different versions of the Rollgliss 200 descender.


To Dirk Stoffels of NSW Australia for sending me an Interalp/Camp Job.


To Chuck Rozner for sending me an original unfinished Russ Anderson Figure Eight.


To Adam Noble, for finding an Atlas Safety Equipment Company Descent-Master on eBay, and to Ann Dunn for having it for sale.
To John Klewicki for having a second version of the Atlas Safety Equipment Company Descent-Master, and to the viewers of this site that decided not to bid against me.
To Charles Denning for a left-handed Jumar 78, Version D ascender (actually, a pair).