Three Carabiner Wrap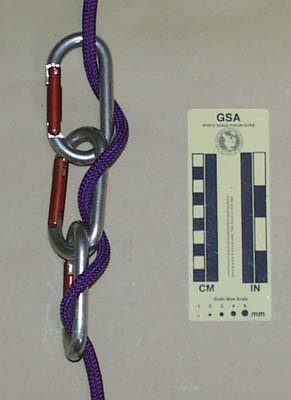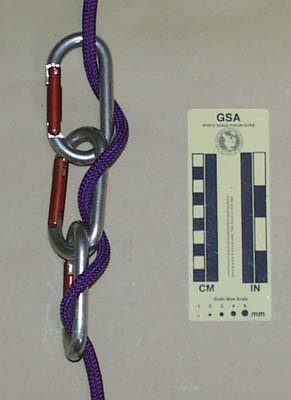 The major problem with the single Carabiner Wrap is that there is not enough friction with one wrap, and not really enough room in the carabiner to add a second wrap without bending the rope sharply. The three carabiner wrap method solves these problems in a manner that is too complex for many people to remember.
If you look at the picture, you will see note several things:
The braking hand is the

right

hand
The rope is wound in a

right

-hand spiral
Each carabiner is rotated 90 degrees to the

right

compared to the one above, and
All the carabiner gates are up.
When rigged as shown, the top carabiner starts with the gate toward the rappeller, and although the rope tends to rotate it to one side, this is the safest direction. The lower carabiners are closer to the rappeller, and less likely to hit the lip accidentally. Locking carabiners should be used.
This rig seems to have about the right amount of friction for my taste. Obviously more friction can be added by extending the chain to four or even five carabiners. No matter how many carabiners are used, this method does introduce significant spin on free drops.
Warning:
Do not use this method without locking carabiners.

For far more content, use a larger monitor and a full-width window.
Hundreds of cell phone users complained and asked me to for a simpler, mobile friendly site. In particular, they wanted me to limit each page to a small number of pictures and minimize my use of text. This new site provides what they asked for.