---

Gibbs Klimair

(#3761, 2623)
Technical Details
I bought my Gibbs Klimair from WesSpur Tree Equipment in 2006. I acquired another in 2017 as part of Bob Thrun's collection.
The Klimair consists of a shell, cam, axle pin, and retaining ring. The shell is made from 4.2 mm. aluminum sheet bent into a U-shaped channel. The inner width of the rope channel is 15.8 mm. An 8.3 mm. hole drilled through both sides of the shell supports the axle. The axle is a standard 8 mm. steel pin, and a 28 mm. i.d. split ring holds it in place.
The cam is more interesting, since it includes a swiveling eye. The cam body (blue) is made from two pieces of 7 mm. thick aluminum, milled to shape then held together with four 4 mm. hex-socket cap screws. The cam is symmetrical, with four rounded teeth on each side. The eye is stainless steel. A projection on the eye fits into milled recesses on the facing sides of the cam halves. This allows the eye to rotate to any angle.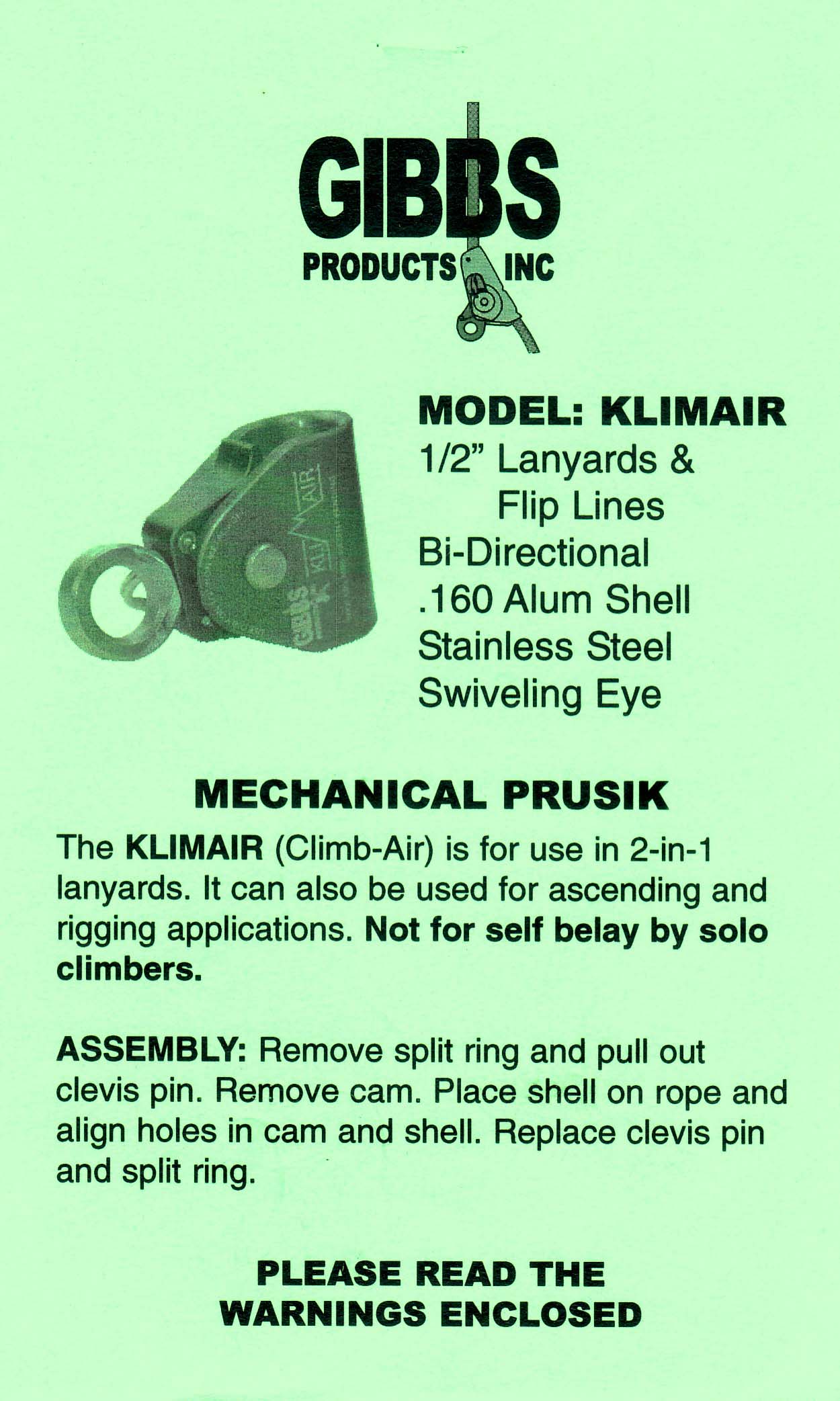 The Klimair is a flipline adjuster designed for arborists. I don't swing through trees myself, so I should leave its evaluation to a real Tarzan, at least for that application.
I find the Klimair interesting because it is essentially a bidirectional ascender. I can envision some specialty uses for bidirectional ascenders in caving and climbing (e.g., on Tyroleans, fixed lines, etc.). The Klimair is small and light. The workmanship is good, and the swiveling eye is simple, robust, and perhaps even clever. One thing that I dislike: when disassembled for rigging, the Klimair separates into four pieces. I like to have my devices hang together. I would like to see someone take this idea, refine it a bit, and develop a design that (1) hangs together and (2) can be rigged, used, and derigged easily, all while wearing mittens.