---

Trango B52

(#771)
Technical Details
I acquired my B52 from Trango in 2002. I would first like to thank them for their donation.
The B52 is a 2-slot hybrid belay device milled from 7075-T6 aluminum and soft anodized. It comes with a plastic covered cable keeper. Although rectangular in top and end views, the profile is irregular. The top surface has a 12 mm. deep circular cutout. The bottom surface is irregular. The slots are 13 mm. wide and 45 mm. long. The keeper is a stiff, plastic covered cable.
The Trango B52 has rigging directions stenciled on each side, "Trango®," "Patent Pending" and "0602" stenciled on the large end. The latter probably is the month and year of manufacture.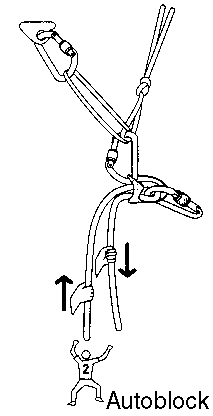 The Trango B52 is a solid belay device. It has some more effective mass than some of the tube belayers, but it can still get hot.
The bottom surface of the B52 is convex where it touches the carabiner. I find that this tends to push the carabiner to one end or the other - but which end varies with conditions. In either case, this probably increases friction somewhat, but I really don't notice a strong effect. Curiously, the bottom surface is almost a mirror image of the one on the Metolius BRD. Both devices work well so I don't see that the bottom surface shape is all that important. My opinion of the top surface of the B52 is less ambiguous: all that it does is to reduce the B52's weight.
The B52 functions much like a normal belay plate or belay tube. The only thing that isn't obvious is that the device can be clipped through an anchor and used as an autoblock belay device in much the same manner as the Petzl Reverso. Trango states that this is "For Experts Only" and I agree. The anchor carabiner should be clipped to the same slot as the belay rope. Personally, I prefer having a dedicated attachment point such as the Cassin GTC and Mammut Matrix have. Like the Reverso, lowering someone after the autoblock locks requires some contortions, since it's not easy to simply feed slack with the B52 locked.
Warning:
DO NOT hang the B52 by the keeper cable when using it as an autoblock. The cable is not strong enough to support humans.
Like most belayers, the B52 can be used for rappelling. Trango recommends using a Prusik Knot as a rappel "safety;" I won't show this figure because I have a different opinion.
Overall, the B52 is a good belay device, but my favorite is still another Trango product: the Trango Jaws.