---

Wild Country Hand

(#106, 2295)
Technical Details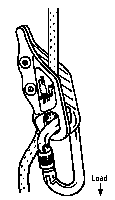 I acquired two Wild Country Hands from Exkursion in 1994. I acquired another pair in 2017 as part of Bob Thrun's collection.
The Wild Country Hand is 111 mm. tall, 46 mm. wide, 30 mm. thick, and weighs 106 g. It consists of two pieces of forged aluminum bolted together to form a V-shaped channel with six rounded ribs.
The front has "HAND," "PATENTED," "WILD COUNTRY," and the Wild Country logo forged in raised relief, and is stamped "416." The rear has a rigging illustration and a Sieg Heil icon in raised relief.
The Wild Country Hand is unique. The user simply wedges the rope into the channel, holds it in place, and applies the load. The ribs help force the rope deeper into the channel. Surprisingly, this works, but I get rather nervous about the rope coming out, and always make sure that I have a good grip on the device. As an ascender, it scares me, but it is a useful device for getting a good grip on the rope for, say, hauling loads through a pulley system.

The Hand was inspired by yachting technology, where cleats using this technology are common. Bob Thrun acquired a plastic Clamcleat® as an example.