---

Kong Duck

(#288, 1517, 2131)
Technical Details
I acquired one Kong Duck from Expé-Spelemat and another from On Rope 1, both in 2009. I acquired another in 2017 as part of Bob Thrun's collection.
The Kong Duck is 66 mm. tall, 31 mm. wide, 30 mm. thick, and weighs 68 g. The body of the Duck consists of an aluminum alloy spool crimped to a 4 mm. aluminum alloy plate. The spool's outer diameter is 24.9 mm., and a shallow U-shaped groove reduces the diameter to 23.6 mm. where the rope rides. The inside of the spool is 17.9 mm. in diameter.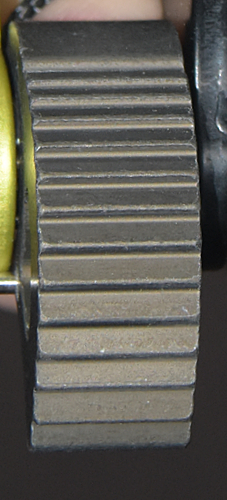 The cam axle is riveted to the back plate, with a steel washer under the riveted head protecting the aluminum plate. The cam axle is about 6 mm. in diameter (I would have to destroy the ascender to get an accurate measurement).
The cam is spring loaded, but the spring is not visible. A small roll pin pressed into the back plate probably forms a bearing surface for one end of the cam spring. The cam has 10 z-shaped teeth. The cam radius increases from 15 to 27 mm. over an angle of 96°, giving a 20° cam angle. A 2 mm. diameter pin pressed into the cam aligns with a notch the front plate. The cam has a hole for attaching a piece of 2 mm. accessory cord that is supplied with the ascender.
The front plate is made from 3 mm. aluminum alloy. A bushing with a 17.7 mm. hole lines up with the spool and back plate holes. When closed, the bushing sits in a depression in the spool. A small notch aligns with the cam pin. The cam axle has a rubber washer outside the front plate that acts as a spring to force the plate toward the back plate.
The front plate is printed with part of the Kong logo, "ITALY" and "DUCK." The rear plate is printed with a rigging icon, a book-with-an-"i" icon, the U.I.A.A. logo, "CE0426," "EN567:97," a rope coil icon, "•/¡ Ø8 + 13 mm," and "090350 09 0131."

My first reaction was that Kong might have copied the Ural Alp Mouse; if so, they did a nice job.
I find that I need two hands to rig the Duck. Only the top few teeth engage when I use 11 mm. rope, and the z-shaped teeth slip under unfavorable conditions. The conical teeth on the Mouse hold better. The clip-in hole is quite close to the main line and is opposite the cam, so there is little lost motion (just over a centimeter) when loading the ascender.