---

Carabiner Brake Bar Methods
Very early people realized that adding a brake bar to a carabiner provided a much better rappel than the old body rappel, and that by linking several such carabiners together with chain links, descending rings or carabiners one could vary the friction in increments. There is no point is showing all of the combinations here, but the basic ideas are shown in the gallery:
.
Don't overlook some closely-related ideas that I placed in the Single Brake Bar Descenders Category.
---
Brake Bars
I don't go out of my way to collect carabiners or brake bars, but naturally, I've ended up with a number of variations over the years. Here are some of the brake bars taken from my spare and miscellaneous pile: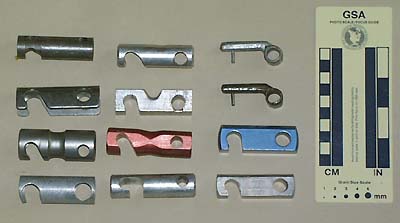 | | | |
| --- | --- | --- |
| Hollow Steel, PMI | Solid aluminum, REI | Old pin-style, plated steel |
| Stamped stainless steel, SMC | One of my homemade bars | Old pin-style, steel |
| Turned stainless steel (thermally a bad idea!), by B&C Wunderwear | Solid aluminum, Ed Seaman design (The Nylon Highway #9), by Speleoshoppe. | CMI, aluminum with ball detent |
| Hollow thin-walled aluminum (a bad idea for wear) | Solid aluminum with positive catch | Holubar, aluminum |
---
Darrel Tomer's Experimental Brake Bars
I have a lot of brake bars in my collection, and perhaps someday I'll describe them. For now, I'd just like to share some interesting ideas that Darrel Tomer developed. Some of these are rather unique, to say the least. I'll provide Darrel's comments on each of these in the Gallery.
ID
Descender
Detailed Description
Weight (including carabiner)
475
Tomer #1
Small finned brake bar, steel retainer, noncommercial.
169
476
Tomer #2
Large finned brake bar, retaining bolt, noncommercial.
166
477
Tomer #3
Small finned brake bar, steel retainer, carabiner gate locked by sleeves, noncommercial.
286
478
Tomer #4
Small finned brake bar for pear carabiner, steel retainer, carabiner gate locked by sleeves, noncommercial.
272
479
Tomer #5
Gate spanning brake bar, asymmetrical friction adjustment, broken gate carabiner, noncommercial.
209
There is no Tomer #6 (there never was)
480
Tomer #7
Gate spanning V-notch carabiner, steel retainer, noncommercial.
168
481
Tomer #8
Adjustable gate spanning aluminum brake bar with threaded steel V-bolt, noncommercial.
396
482
Tomer #9
Adjustable gate spanning steel brake bar with threaded V-notch adjustment, noncommercial.
290
---
An Idea to Forget (Until it's the Only Option Left)
Open any old climbing book and they'll probably show using pitons as brake bars. For completeness, I'll show a Lost Arrow and a standard angle used as brake bars. I can do a lot better than using a piton, especially if I have some more carabiners available, so I won't go into this idea any further (let alone touch the idea of using a hammer handle or ice screw as a brake bar).

---