---

Petzl Freino
Overview
---
[ Top | Version B | Return to Most Misc. ]
Version A

(#878)
Technical Details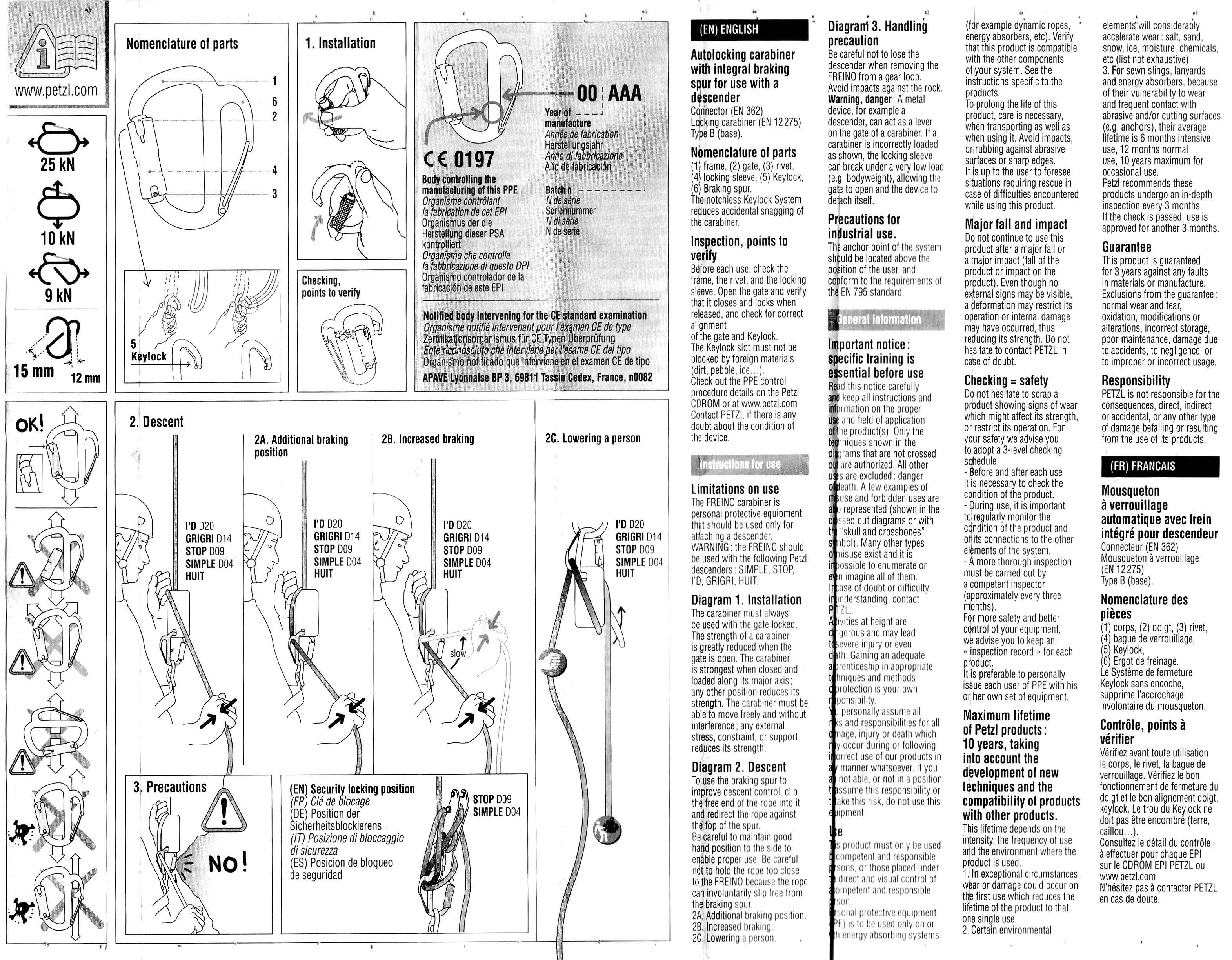 I acquired this Petzl Freino from Inner Mountain Outfitters in 2004.
This version is 102 mm. tall, 79 mm. wide, and 17 mm. thick. Mine weighs 84 g.
The front has "PATENTED," "PETZL," and "FREINO" in forged raised letters. The rear has "KN ↔25 ↕10," an icon showing an open carabiner pulled by two arrows, "9," and "CE0197."
Petzl developed the Freino as a credible alternative to the second seat carabiner recommended for bobbin users. The Freino is essentially a double carabiner. The main (locking) carabiner attaches the bobbin to the seat maillon while the trailing end of the rope passes through the subsidiary (wire-gate) side. Although the Freino eliminates the need for one carabiner, the subsidiary side is not large enough to pass the bights needed for locking a bobbin off in the standard manner.

The Freino uses a typical twist-lock instead of a traditional screw-lock mechanism. These are designed to automatically lock the gate when closed. Many people like these; personally, I prefer screw-locks.
---
[ Top | Version A | Return to Most Misc. ]
Version B

(#2750)
Technical Details
I acquired this Petzl Freino from Petzl America in 2019.
This version is 81 mm. long, 92 mm. wide, 17 mm. high, and weighs 75 g.
The front has "PETZL FREINO" in forged raised letters, and is printed with a scanner code, "EN362-2004/B," "ERC," "19129QA0528," "B" inside a circle, "Z RL," "Meets NFPA 1983 (17ED)T," and the UL logo. The rear has "CE0082," "↔23 ↕8," an icon showing an open carabiner, "8 kN," "UIAA," and a book -with-an-"i" icon, all in raised forged letters or symbols.
Petzl introduced this version in 2019. It is lighter and smaller than the previous version, thanks to its I-beam cross-section. It is also rated lower than its predecessor, but the difference is inconsequential. The main difference, however, is that the main carabiner is inverted. In use, the Freino must be clipped to the descender and then "flipped" by passing the spine through the slot in the bobbin. Previous Petzl Bobbins (both Simple and Stop) did not have a large enough slot on their fixed side plates, so Petzl introduced new versions at the same time.
Although Petzl redesigned the Freino, they did not address the rope path, which tends to run over the edge of the bobbin's side plate. This is not an issue when used with bobbins with rounded edges like the I'D, but is a moderate concern when used with bobbins like the Simple and Stop. I prefer systems that align with the rope plane as it enters the upper bollard. This can be achieved by using a safety carabiner as specified in Petzl's literature (see the Simple page) or by using the specialized Raumer Handy.
---
[ Top | Version A | Version B ]